Patient Sites & Blogs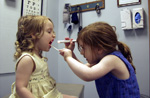 Similar to online health forums, patient websites and blogs don't always contain the most reliable health information. However, they do offer the patient perspective which is vital for anyone who is trying to navigate the health care system. In addition, when patients have a real interest and passion for natural healing, the content can be rich with healthy advice.
Personal Favorites
GFE – Gluten Free Easily

http://glutenfreeeasily.com – loads of gluten free recipes and information from Shirley Braden.

But You Don't Look Sick

www.butyoudontlooksick.com – site from founder, Christine Miserandino, a Lupus patient dedicated to educating people on invisible illness.
Other Great Patient Sites
A Life Hidden

alifehidden.com– beautiful blogs and tributes to raise awareness for ME (myalgic encephalomyelitis).

After Stroke Party

www.afterstrokeparty.com – a site by a young woman who recovered from a stroke.

Autoimmune Gal

www.autoimmunegal.blogspot.com – just what it says! A woman with autoimmune disease shares her struggles.

Larry Berkelhammer, Ph.D

www.larryberkelhammer.com – a psychotherapist with multiple autoimmune diseases  who discusses his journey with mindbody medicine.

The Bravest Little Toaster

bravestlittletoaster.wordpress.com – wins the award for cutest title ever! This site from Emily Lemiska explores the challenges of living life in pain due Klippel-Feil Syndrome.

A Chronic Dose

www.achronicdose.blogspot.com– a blog from patient (PCD, bronchiectasis, celiac disease) and author, Laurie Edwards.

Dear Thyroid

http://dearthyroid.org – a site where people with thyroid disease can write letters to that pesky organ.

The Elaine Moore Graves' Disease and Autoimmune Disease Education

www.elaine-moore.com – a site from patient and author, Elaine Moore.

Getting Closer to Myself

http://gettingclosertomyself.blogspot.com – a personal blog from a woman with Lupus.

IBS Tales

www.ibstales.com – a site on irritable bowel syndrome (IBS) from patient Sophie Lee.

Reasonably Well

http://reasonablywell-julia.blogspot.com – a retired nurse living with Sjogren's Syndrome.

UII – Understanding Invisible Illnesses

http://myuiiblog.blogspot.com – autoimmune disease is often invisible, this blogger raises awareness of this fact.

WegoHealth.com

www.wegohealth.com – a site for health activists.
[Last Updated: 10/31/20]